The Exhilarating 2017 Nissan GT-R
June 29 2017, Applewood Nissan Richmond

Supercars are born to be legendary, with meticulous dedication to every single element that is put into them.
They are the only class of vehicles that has the perfect combination of speed, power, performance, refinement, comfort and racecar styling. You want to feel the roar of the engine, and the power under the hood the moment you start one. That is exactly what you get the moment you bring the 2017 Nissan GT-R to life. This is a supercar that is not only performance driven, but made for real-life. It is designed so anyone can experience the thrill of driving this exhilarating ride.
The 2017 GT-R features an engine that is handcrafted and engineered to perfection. There are only five master craftsmen, known as Takumi, that are allowed to assemble the GT-R's precision engine, and they each do it all by hand. Each engine bears the single craftsmen's signature who assembled it, this guarantees the dedication that was put into it. The engine combines durable magnesium and aluminum so the V6 gives you a powerful 545 horsepower.
To find out more about the mastery behind the 2017 Nissan GT-R, visit us at Applewood Nissan Richmond. We can provide you more details and you can learn all about the elevated feeling of driving a GT-R. We are your specialists for all things Nissan for the Richmond, Vancouver, Burnaby, Surrey and Delta areas.
Nissan GT-R Performance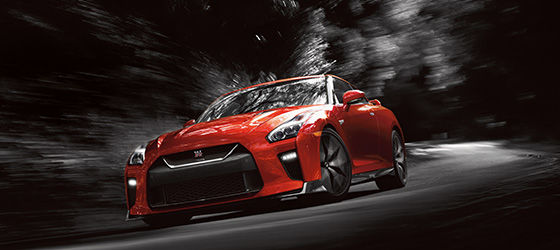 Nissan knew when they designed the 2017 GT-R that it would need to be better than ever before. That is why they got 4 master drivers to test it, at all speeds and all conditions. Tests included reaching a maximum speed of 300km/hr on the Autobahn, driving over potholes and testing it on real-world roads. The 3.8L twin-turbocharged 24-valve V6 engine gives a maximum output of 565 horsepower and 467 lb-ft of torque. The ATTESA E-TS All-Wheel Drive with patented independent rear-mounted transaxle integrating transmission allows you to drive in all conditions. The all-new dual clutch 6-speed transmission with three separate modes including Normal, R-Mode and Save, allows you to choose the best mode for your driving, fully customizing the ride.
Nissan GT-R Exterior Styling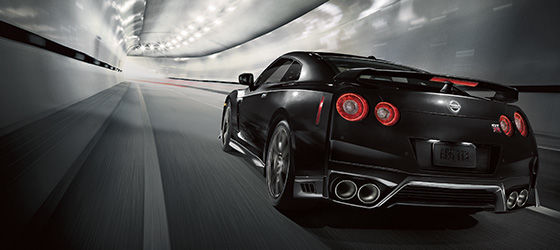 Aerodynamic, is one of the words that can be used to describe the 2017 Nissan GT-R. Every detail was engineered to only have a 1% energy loss around the C-pillar, while the front fascia creates a vortex that redirects air around the wheel wells. But that's not all it is, every detail was designed to be sporty with clean lines. When engineering the GT-R they went through every detail and made them better. The reinforced hood, rear bumper lip and side sill have all been redesigned to perfection. The upgraded Track edition is designed to be sharper. NISMO wheels and suspension come together to give you extra quality. While the carbon-fibre spoiler provides amazing downforce too. You will be show stopping in the Nissan GT-R.
Nissan GT-R Interior & Technology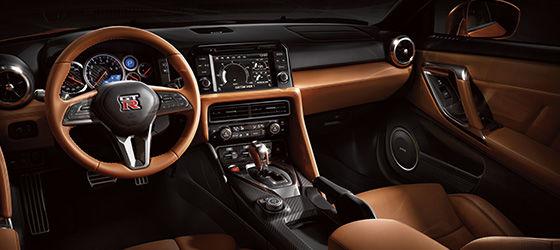 The 2017 Nissan GT-R creates an interior cabin that makes you feel like you're a part of it. Everything inside is right at your fingertips and the cabin creates an immersive experience that cannot be missed. With two loaded trim levels, you have a choice of interior stylings and technologies to fit your needs. Standard leather-appointed seats get an upgrade on the Track Edition with Black/Red accents. Carbon-fibre trim, 8-way power driver's seat and dual individual rear seats all come standard on both trims. As for technology, the GT-R is fully outfitted with an 11-speaker Bose system, active noise cancellation and sound enhancement, all of which are controlled by the NissanConnect system with Navigation.
Parts & Accessories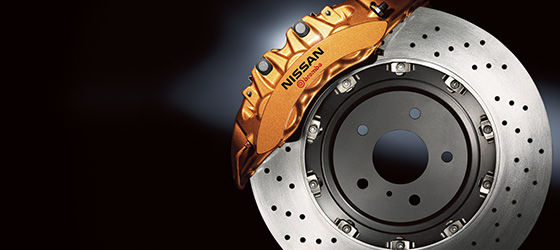 The Nissan GT-R is the cream of the crop, it is a powerful supercar that is ready to drive you wherever you want to go. It is made for everything that you want to do, and can go faster and further. That doesn't mean that you won't need something to make it truly your own. At Applewood Nissan Richmond, our parts department carries a variety of genuine OEM parts and accessories. We also have an amazing service department that can install anything you might need. Since the GT-R is so specialized we can provide the best information about your vehicle and special order parts if necessary.